20 Survival Tips for New Moms
From a Veteran Mom
Looking for survival tips for new moms? I have been blessed with five beautiful children. Will there be any more children in my future? I honestly can't say yes or no. We feel like our family is complete, but I know that God often surprises us when we least expect it!
All of our babies have been born in the Fall,( with the exception of my youngest… a January baby) so this time of the year has me thinking about those precious days when I brought each of my children home. I thought I would share with you a few survival tips for new moms that I've picked up along the way.
New to breastfeeding? Grab our free breastfeeding ebook.
This post contains affiliate links meaning that if you click on my link and make a purchase… I will receive a small commission. Here's my full disclosure.

20 Survival Tips for New Moms
Tip #1
Stock up on easy to cook food!
(including freezer meals.. check out these awesome freezer meal ideas for new moms!)
I am sure you have heard this one already, but I couldn't leave it out. It is my one of my top survival tips for new moms.
You most likely won't feel like cooking or cleaning… or going out anywhere after the baby. So, stock up on those groceries! Get stuff that is easy to make. Also, stock up on healthy snacks for you, fruits and veggies…. you will be hungry!
Especially if you are breastfeeding, I was always STARVING right after I gave birth and for months afterward because of breastfeeding!
New to breastfeeding? Grab our Free Breastfeeding eBook.
Tip #2
Stock up on diapers and wipes.
Buy plenty of diapers and wipes for the baby! As I said before, you probably won't feel like going out to the store for a diaper run. An Amazon dash button for your diapers is a game changer!!
Shop Amazon Devices – Dash New Brand Launch
Cloth diapering mommas… stock up! Babies typically go through 10 or so diapers per day! So be prepared. You don't want to have to do a ton of laundry every day… you won't feel up to it. You will probably need around 24 newborn diapers for a baby if you are solely cloth diapering, and about 30 cloth wipes if you choose to go that route.
My favorite cloth diaper shop: Click here to visit Nicki's Diapers
My favorite cloth diapers: Grovia
Tip #3
Get organized.
Even before the baby arrives. Start putting things in their place. Open up all the nice little things you got at your baby shower and find a good practical place for them.
I bought one of these for organizing my little man's stuff.
TomCare Cube Storage 6-Cube Closet Organizer and 6 Pack – SimpleHouseware Foldable Cube Storage Bin, Dark Grey
I will say that these are super frustrating to assemble, but ours has lasted us a good 8 or 9 months so far.
If you're looking for a more long-term solution, try this instead:
Better Homes and Gardens 6-Cube Organizer
Tip #4
Make a Baby Basket
Making a baby basket is another one of my favorite survival tips for new moms. This has been a lifesaver for me! Especially with those 3 am diaper changes and feedings. Buy a small basket to put some essentials in, and keep it by your bed on the nightstand.
Something like this: Baby Diaper Caddy Organizer
Here's what to put in your basket:
Breastfeeding mommas:
diapers, wipes, baby lotion, rash cream, lanolin, nursing pads, pacis, burp cloths, and extra onesies or sleepers.
Bottle-Feeding mommas:
diapers wipes, baby lotion, rash cream, pacis, burp cloths, extra changes of clothes, a few bottles with water already in them, and a formula container with pre-measured powder inside or a few newborn premade bottles.
Tip #5
Ask For Help
Sometimes it is difficult to ask for help, but it is so important for a new momma. Even asking Grandma to come and babysit while you take a shower will do wonders!! Don't neglect yourself!
This is a great article by Fit 4 Motherhood: 8 Ways to Find Time For Yourself With a New Baby
Tip #6
Campout in your bedroom!
This is what I did for the first few days. I had my husband home to help, and I took advantage of it! I stayed in bed, watched movies, and rested. Netflix and Amazon Prime Video were my go-tos! Binge watching Pride and Prejudice with Colin Firth is a must!
Here's a link to the Amazon Prime Free Trial:
Join Prime Video Channels Free Trial
It is important not to overdo it right after having the baby. You may feel like a thousand bucks, but you won't if you try to do too much too soon.
Trust me on this one. After my first baby, I felt awesome! I wanted to get out and go do things. I felt great! So, I went to a wedding we had been invited to just a few days after I gave birth to my son. Huge mistake! I was so sore… and all I did was sit most of the time! When I got home, I felt like I had been hit by a train! I never made that mistake again. It is best to stay at home and take time to recover.
Tip #7
Stock up on pads!
After the baby comes you will need loads of these! I bled for a full 6 weeks after one of my children. You just never know how long it is going to be. And buy some not so pretty underwear for now… ones you don't care about!
I know some people prefer the mesh hospital panties… but I absolutely hated them!
Tip #8
Don't worry about loud noises!
You really don't have to be super quiet while the baby is sleeping. It is actually good for them to get used to the noise. Especially with an older brother or sister. There will be lots of noise!!
When I brought my 5th baby home, there was absolutely no way that we were going to get a silent house. I do make sure that they keep it relatively quiet around his nap times, but he can sleep through a lot!
Tip #9
You don't actually have to keep your baby awake during feedings.
This is just something you don't have to do. Your baby will naturally fall asleep while nursing or taking a bottle. Not letting your baby go to sleep while eating will only make them SUPER cranky.
Tip #10
Hold your baby often!
Itty bitty babies don't spoil! They need to be loved and cuddled on all day long. They love momma's voice, her smell, and her touch. Babies don't keep… so, rock that baby!
Tip #11
Keep your diaper bag well stocked!
You really don't want to forget to check your diaper bag for diapers, wipes, and clean changes of clothes. I always put at least 6 diapers, a full or close to full package of wipes, and 3 or 4 changes of clothes! You will need all those extra clothes. My daughter pooped out all over her clothes at almost every diaper change, and you can't forget that spit up all down their clothes!
Being the forgetful momma that I am, there are still times that I leave the house and forget to check the diaper bag. Then I end up with a poopy diaper situation and no diapers! It happens!
Tip# 12
Make a Mommy bag.
Keep a small bag with an extra shirt or two for you in your car! Baby is not the only one who will get poop and spitup on them!
Tip #13
Buy plenty of pacis.
If you are planning on using pacis, stock up. You may want to wait until you figure out what brand they really like, but after you do, you need to buy several more. Keep two in the diaper bag, two at home, and two put up for when you lose the others… because trust me, you will! Pacis never cease to amaze me! They get lost and they are never found! These are our favorite brands: NUK.
I feel like I've tried just about every brand under the sun… even some of the more expensive ones. I always come back to the NUK.
Tip #14
Feed your baby when he/she is ready.
They may not be able to talk, but they are able to communicate when they are hungry, wet, and tired. Babies will use different types of cries to tell you what they need, and you will figure it out!
So, don't think you have to stick to some strict feeding schedule. Some babies will want to eat every 2 hours until they are a year old… some will wait longer stretches in between from the get-go.
Tip #15
Get a routine.
This is super important. Start a routine with your baby from the day you get home from the hospital. This will help them know when bedtime is!!
With my daughter our routine was always:
Bath after dinner time, lavender lotion, pajamas, and mommy's milk.
With my #5, it's pretty much the same!
Tip #16
Swaddle that baby!
Newborn babies love to be wrapped up in a blanket. You can use a swaddle blanket or these awesome muslin blankets. I loved my muslin blankets! I used them for nursing covers too with Nursing Clips.
Related post: 5 Reasons You Should Be Talking About The Woombie Swaddle
Tip #17
Avoid that super fancy going home outfit.
I know it is tempting to go all out, but think comfort! Your new baby will most likely do better in a sleeper or a onesie and stretchy pants. Here are a few ideas:
Tip #18
Don't be afraid to turn away company.
There will be many people eager to hold that new bundle of joy, but you and baby need rest. Trying to entertain company right after you get home is never any fun. So when you are not feeling up to it, don't be afraid to just say no!
Tip # 19
Carry your baby in a wrap!
This was an awesome way for me to get stuff done after my husband went back to work. I was able to work hands-free while baby slept peacefully! It was a lifesaver! It also makes it less likely for someone to ask to hold your baby.
For the first few weeks or even months, you may want to limit the number of people who hold your baby… especially if it is during flu season. So, wearing baby is a great way to deter all those eager beavers wanting to love on your little one.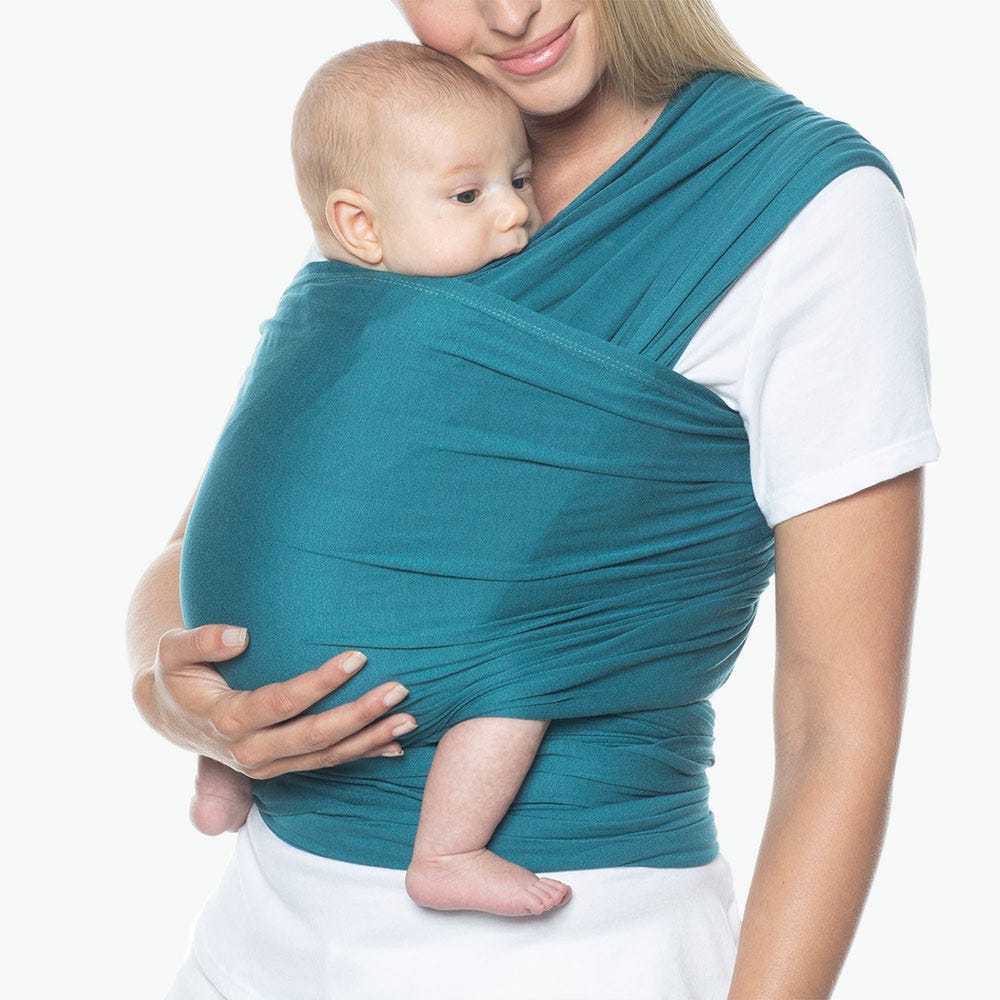 Aura Baby Wrap: Amalfi
Stylish and comfy, the Ergobaby wraps give you the perfect fit every time. Free Shipping!
Tip #20
Enjoy your baby!
Study her face, take plenty of pictures, and kiss those precious little cheeks! Babies don't stay little for long.
They grow up way too fast! So, hold your baby while she sleeps… even if it is an hour! Rock her, read to her, sing to her. Give her all the love and attention that you have.
You will start sleeping through the night again before you know it, and you won't be that sleep-deprived momma anymore. Believe it or not, you will miss all those precious moments with your newborn, sleep or no sleep!
What are your survival tips for new moms?
Comment below with any more tips for new moms!
Posts you may like: